Welcome to Northwood Veterinary Hospital, Your Veterinary Team in Northwood, NH
Veterinarians play a vital role in helping pets live long and healthy lives. At Northwood Veterinary Hospital, we're committed to providing professional veterinary care to pets in and around the Northwood area. Our full-service animal hospital sees all kinds of animals, from dogs and cats to exotic pets. Whether your pet needs a routine check-up or complex surgery, our veterinarians are ready to help!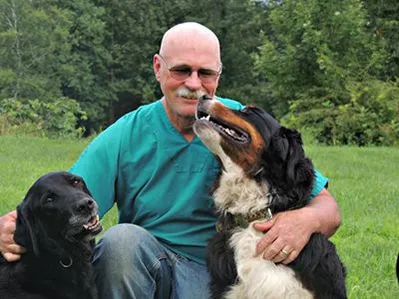 Our Team
Northwood Veterinary Hospital is run by Dr. Hugh Davis, who has over 30 years of experience in his field. Dr. Davis and our veterinary professionals offer preventative, medical, and surgical care for pets. When your pet gets sick, we understand your concern for prompt, quality care to restore his or her health. That's why we strive to provide an accurate diagnosis and the best treatment for a pet's recovery. We also do our part to prevent health issues from occurring by offering comprehensive preventive care.
Our Services
Our mission is to keep our pet patients healthy and happy throughout their lives. We achieve this at our state-of-the-art facility by providing various veterinary services, including:
Preventive care – This program consists of wellness exams, vaccinations, parasite control, skin care, nutritional counseling, and other essential services to maintain or improve your pet's health.
Diagnostics – We offer diagnostic testing and in-house lab work for a prompt, accurate diagnosis of your pet's health issues. This enables our vets to recommend and initiate treatments quicker and effectively. Our facility makes use of digital radiography, ultrasound, and endoscopy equipment to facilitate these services.
Dental Care – Oral health is just as important as your furry friend's overall health. We offer annual pet dental exams, x-rays, and cleanings as preventive oral care. We also treat dental issues like tooth infections, bleeding or swollen gums, and periodontal disease.
Pet Surgery – In addition to our routine surgery procedures like spay and neuter, our surgical treatments include tumor removal, soft tissue repair, and orthopedic surgery to improve your pet's mobility. Surgery can be difficult for both the pet and its owner. That's why our Northwood veterinarian will provide counseling and answer any questions you may have about your pet's surgery. We also offer laser therapy for pain management and quicker healing.
Contact Us for Quality Vet Care in Northwood, NH
Whether you have recently adopted a puppy or senior pet, our professional staff is here to offer the veterinary services it needs. For quality pet care you can trust, contact our team at Northwood Veterinary Hospital today. You can call us or contact us online to schedule your pet's next exam or to learn more about how we help pets in Northwood and surrounding areas.
Dr. Hugh Davis, DVM & Dr. April Treat, DVM Northwood Veterinary Hospital Phone: (603) 942-8368 Fax: 603-942-5280 [email protected]